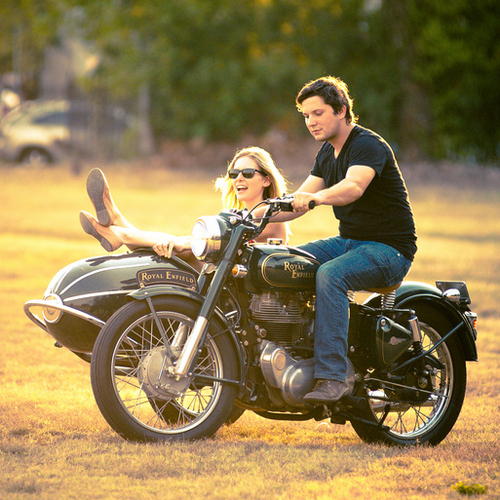 1. How long have you been working with Urban Harvest Farmers Markets? What is your job title with them?
I started volunteering about four years ago at the Eastside Farmers Market. Iíd always had an interest in gardening and wanted to find a community garden, but my full-time work and school schedule made that a tough proposition. The market needed a volunteer to help with setup, so I started coming and never stopped. It made an honest man out of me to wake up at 6:00 AM on Saturdays to volunteer my time and do the manual labor, but I learned to love it and still look forward to it every week. I am now a full-time market manager with Urban Harvest.
2. What is the mission of UrbanHarvest.org?
Urban Harvest promotes healthy communities, sound nutrition and respect for the environment by educating children and adults and facilitating harvest and habitat gardens. We run three programs within Urban Harvest: Community Gardens, Education, and Farmers Markets.
3. Is this what you wanted to do out of school? Or more of universe working its magic?
I feel really lucky to have had a string of events that lead me to working full-time at Urban Harvest. When I was volunteering at the market, I was also working at a consulting firm. I spent most days pigeonholed at a clientís office fixing peoples problems by staring into a computer screen. Although Iím thankful for the experience, that was not what I was supposed to be doing with my life. I needed to work with people, build meaningful relationships and feel like I was making a difference. When the opportunity to work full-time for Urban Harvest presented itself, I took a leap of faith and never looked back. I have a business management degree and Iíve learned more from running these markets than I could have ever hoped to learn in a classroom.
4. How many years has Saturday Eastside Market been going on? How many total Farmers Markets does Urban Harvest operate now and where?
The market was started in 2003. September 2012 will mark itís 9th year in operation. The market started out as concept our Board came up with. In the beginning, about 5 vendors a week showed up. The first few years were really a testament to the dedication of the vendors and staff at Urban Harvest. They were committed to make the market work, and in the process built a tight-knit community amongst themselves. Houstonians really needed a true farmers market, but it took some time for them to realize it!
We currently have five markets that run from Wednesday through Sunday.
Wednesdays at City Hall, Thursdays in Sugar Land Town Square, Fridays at HCC Southwest Campus, Saturdays at Eastside, and Sundays at Highland Village. All the hours and exact locations are on our website.
5. How many vendors do you usually have at Eastside on Saturdays?
Our vendors rotate seasonally, but usually we have about 60 vendors present each weekend. I love that our customers can do one stop shopping for fruits, vegetables, eggs, milk, fish, chickens, pork, grassfed beef and a variety of prepared foods like breads and cheeses. All of our products are grown or produced within 180 miles of Houston. Aside from the food shopping, we try to make it an experience. Every week, our customers can get their knives sharpened while they shop, see a chef demo, drink a cup of coffee and listen to our band, and bring home a bouquet of beautiful flowers.
6. How long has the organization been around? Was there one founder or a collection of do-gooders?
Dr. Bob Randall was the original founder in 1995, but there was a committed group of people that were influential in setting up the groundwork of the organization like Suzy Fischer, Wendy Kelsey, Mark Bowen and Terry Hershey. Dr. Randall came to Houston after living in Panama and Berkeley. He saw a lot of opportunity with our temperate climate and combined that with a desire to combat hunger by growing gardens and educating people. The book he wrote after years of experience gardening and growing fruit trees, Year Round Vegetables, Fruits and Flowers for Metro Houston, is one of a kind because it was written specifically for Houstonís climate. I think every Houstonian should have a copy.
7. What other opportunities does Urban Harvest offer and operate besides Markets?
One of the tremendous values that Urban Harvest brings to Houston is the ability to find a community garden to get involved with. We have an interactive map on our website that will show you over a hundred Urban Harvest affiliated gardens throughout Houston, along with contact information. We also have classes taught by passionate instructors on topics like how to plant a home orchard or vegetable garden, how to compost, and how to forage for wild edibles. Our annual Fruit Tree sale has become an institution in Houston. We sell over 100 varieties of fruit trees that grow in the Houston area at our sale on January 14th at the University of Houston.
8. Tell me what else the great people need to know about you and your organization.
I think the best part about Urban Harvest is that our staff and volunteers have really taken the time to grow deep connections with people of all different walks of life in the community, and the common denominator is food. Hearing stories about how one of our afterschool programs is helping kids to realize that carrots grow in the ground or when a customer comes to our market and is happy to find the freshest figs is what makes all the hard work worth it. The Alabama Gardens in the 5th Ward, Houstonís oldest community garden, is a true inspiration to the dividends earned by hard work and brining people together for a common goal. It is a true marvel.